Do you enjoy reading scripture?
How about memorizing it?
I use to make up excuses for why I couldn't memorize, but mostly it was because I didn't try! This year marks the second year of being in an inductive women's bible study. And part of our study requires memorizing scripture. Well, last year I think I attempted to memorize like maybe three verses! So this year I was motivated to give it a much better attempt. Even though I only memorized a few last year it felt really good and I am motivated now to keep going.
Sitting in church over the years I have heard many sermons about how important it is to be in God's Word daily. The reason being, we so easily forget the spoken word and even the written word. We are currently studying in the book of James and I love this reminder in verse 1:23-24. "For if anyone is a hearer of the word and not a doer, he is like a man who looks at his natural face in the mirror; for once he has looked at himself and gone away, he has immediately forgotten what kind of person he was." So true isn't it? We forget so quickly don't we?
Some of my methods are not super out of the box, but they are simple and have helped me be successful in memorizing scripture so much better.
Writing on my bathroom mirror with a sharpie! Yep it's not super pretty, but so effective because as I am getting ready in the morning or washing my hands throughout the day I can glance up at it. Plus don't be afraid to write on your mirror because it wipes off easily with a rag and rubbing alcohol!
I adapted this second one, the concept came from a friend of mine from bible study. She made up all our verses for the year on these handy typed up cards and I find they are super helpful to stick in my car cup and read when I am in line picking up my daughters from school.
Lastly just a tried and true way to memorize… I say the verse out loud several times in a row until I have it memorized.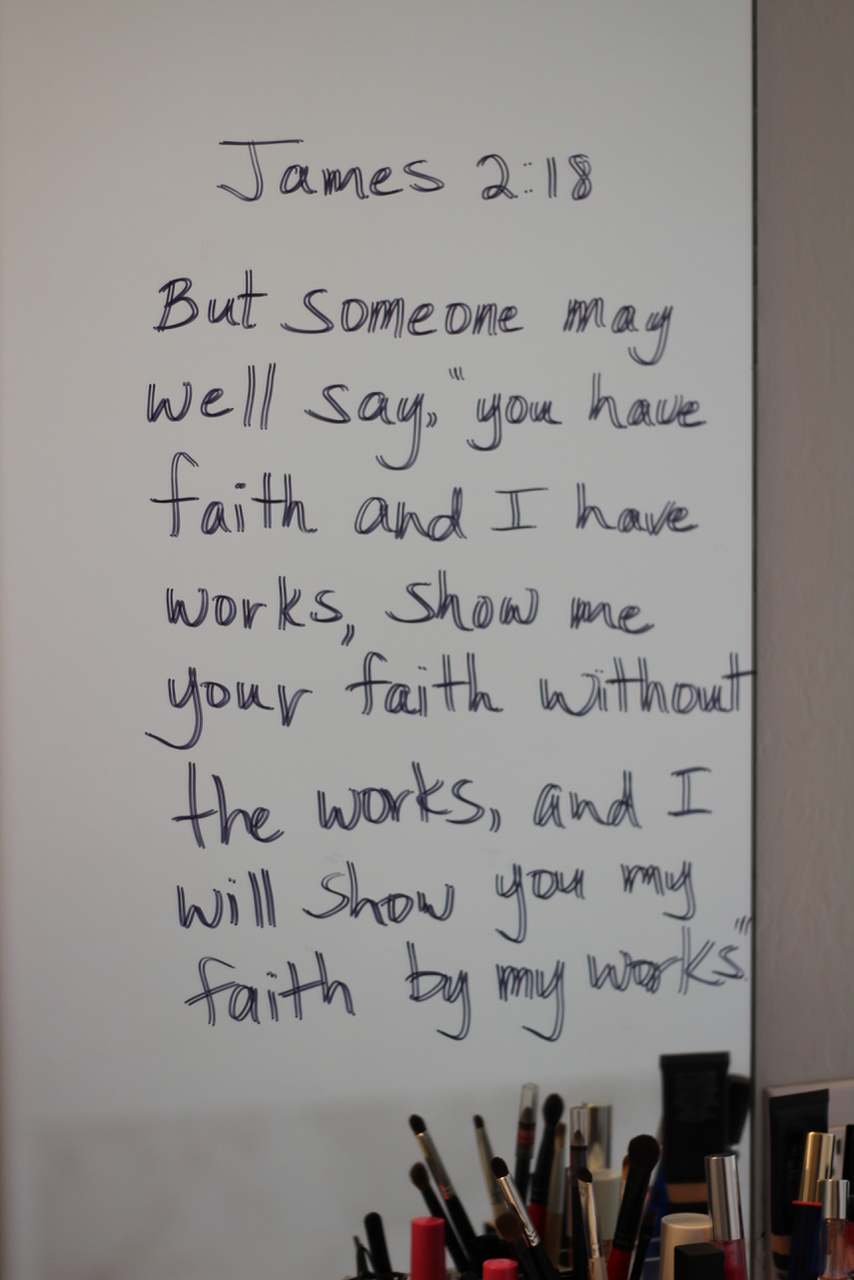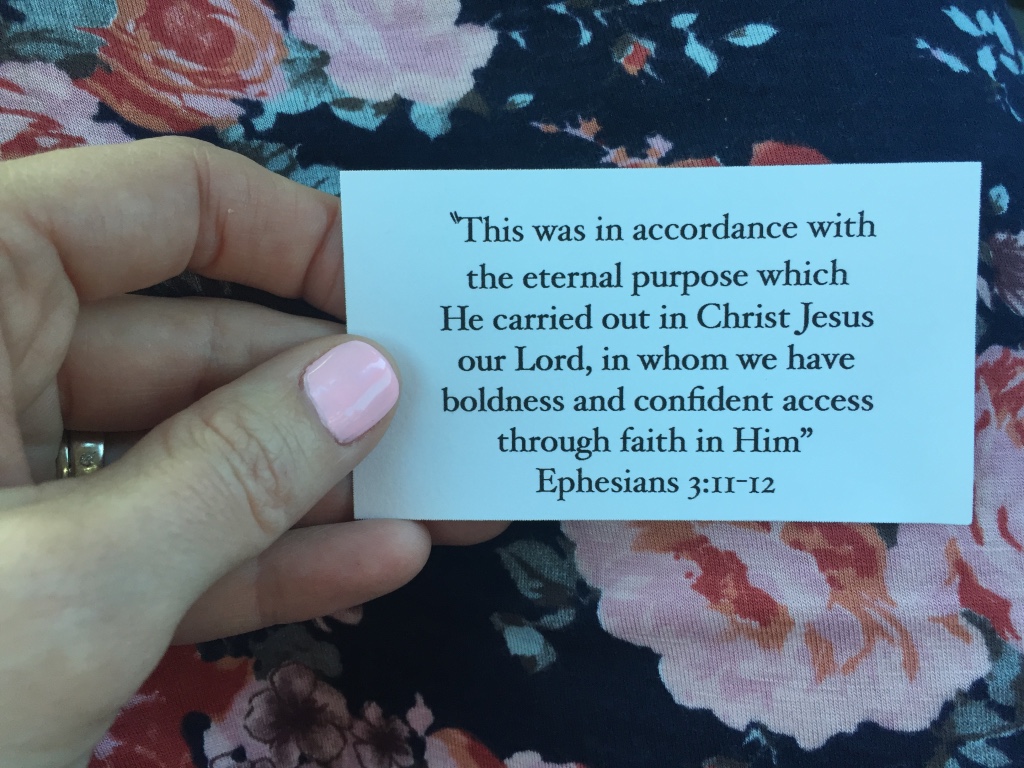 Blogging has connected me with so many other Christian mamas' and I have asked two other ladies to share how they like to memorize.
Patricia from lifeofaministermom blog says,

"When it comes to memorizing scripture, for me repetition is definitely key. I need to look at it multiple times to really soak it in and pray as I do so in order for it to remain in my mind. I used to be much better at writing verses down as notes and reminders, but I honestly haven't done that in a while.

I like highlighting scripture in my phone and referring to it throughout the day. I recall reading a blog suggesting leaving your Bible open to a passage you are working on learning in a central location, like the kitchen table, so every time you pass by that spot you take a look. I incorporate this and I also read verses out loud with my daughters. My four-year-old will come home with scripture cards from church and we read those nightly. It helps the both of us, and I'd like to believe her 2 year old sister is soaking in the Word as well!"
You can connect with Patricia on her Blog/Instagram/Facebook/Email
Kalie over at somysoullongs blog says,

"For me, memorizing scripture is something I enjoy doing. I am able to remember certain verses when I am out and about, yet still in need of a reference, to remind myself or to teach. I like to use the method of writing the first letter of each word in the scripture on my hand in fine-tip Sharpie. This really works! It's crazy that our mind can remember words with just the first letter!

Another way I like to remember scripture is by lettering the scripture out. This takes time and helps me meditate on the verse(s). Then with certain scripture, after lettering it out, I washi-tape it to the wall beside my bed so I see it at night and when I wake up.

I hope these methods help you as much as they have encouraged and helped me! Go out there and spread His Word!"
You can connect with Kalie on her Blog/Instagram/Facebook/Email
I hope this has encouraged you that you can do this too! So helpful to be reminded of a verse when you or someone else is in need!