This post is sponsored by YorkTest, but as always all opinions are 100% my own.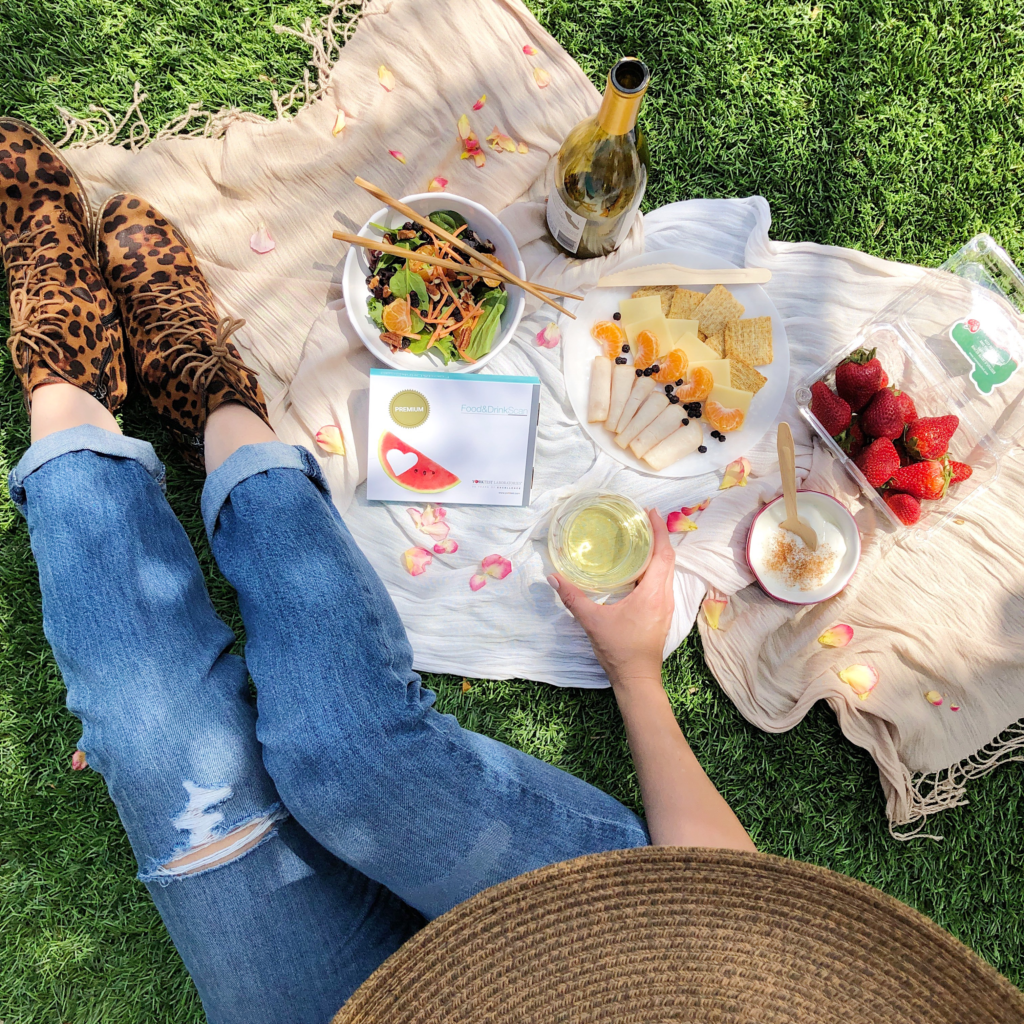 Are you intolerant to certain foods?
What is food intolerance? If you're new to YorkTest, I'm sure you're eager to find out all about food sensitivities. After all, approximately 45% of the UK population suffer from a food intolerance* – that's nearly half of the population! The good news is that you don't have to be a science whizz to understand information on food intolerance or how this plays an effect on the body. A food intolerance can occur when your body has difficulty digesting certain foods. When this occurs over time, large food particles (proteins) may enter the bloodstream. – YorkTest
What if I told you can take a simple home test to find out.
When I was first approached about the idea I will admit I was hesitant. Why, do you ask? I was nervous about a finger prick! In all honesty, though, it was fast and painless and definitely gives me empathy for those that have to do them often much like a diabetic.
At this point, I was not aware of any food intolerance of my own. So why do it, right? Well, I was curious to find out if I did and I actually know several people who struggle with what they eat! Plus, benefiting from extra knowledge and possibly helping out others is a win, win, for me.
My results came back speedy fast from YorkTest Laboratories and so easy to read too. Along with your Food and Drink scan kit you also receive a 30-minute consultation with a nutritional consultant over the phone. If your test comes back with zero reactions, well, you get your money back!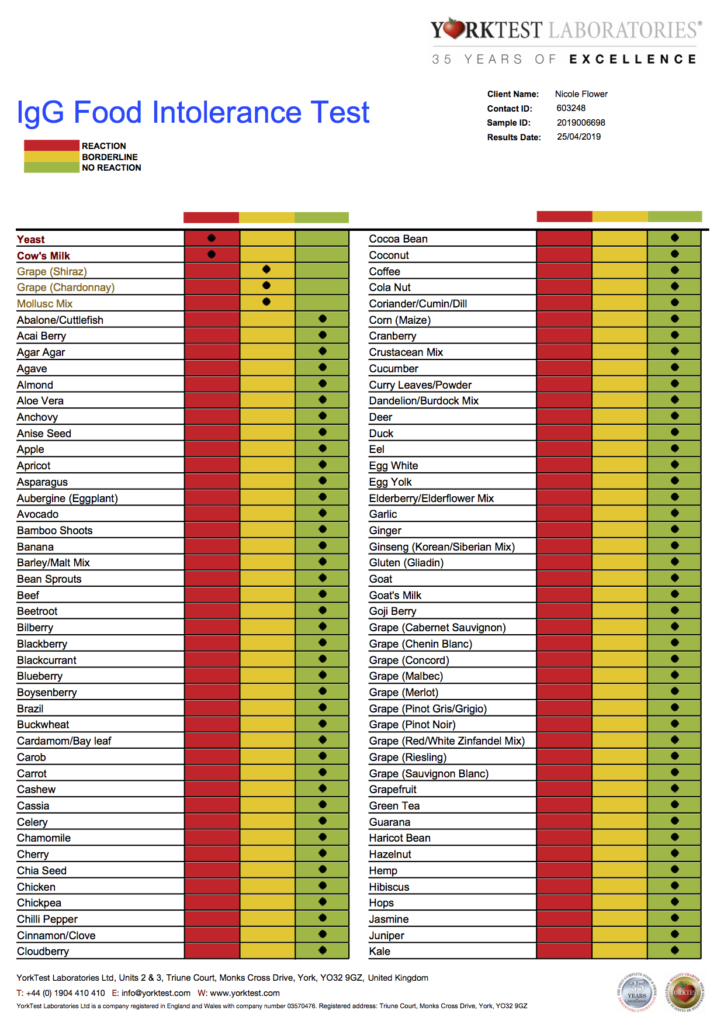 As you can see they test up to 208 different food and drink ingredients and I actually have two. These are also listed in order from what I am most intolerant to, to the least. Lucky for me I mostly prefer Vodka and Rose!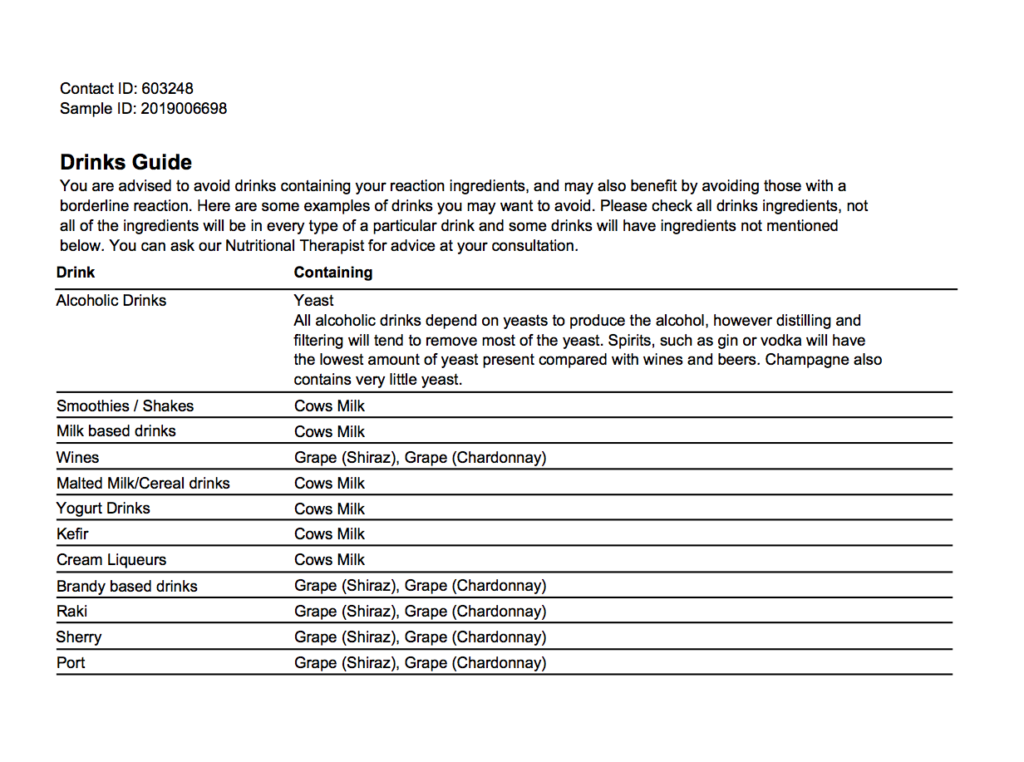 Milk is not a hard one for me to eliminate either but yogurt is because I do like a tasty smoothie every now and again. Also, notice I am borderline intolerant to mollusc mix which contains: mussels, oysters, and scallops. This one is kinda a bummer because I do like both mussels and oysters. Scallops, not so much!
Lactose-free milk is one of the alternatives on offer and we often get asked if this milk is suitable for those needing to remove cow's milk from their diet. Lactose is a milk sugar, and lactose-free milk is needed for people that are deficient in the enzyme lactase (they are lactase deficient and suffer from lactose intolerance). However, lactose-free milk still contains the milk proteins responsible for the intolerance reaction. For alternatives to milk that are suitable try soya, almond, hazelnut, hemp, rice, oat or coconut milk instead. – YorkTest
Once you have your results and talk to a nutritional consultant you can start your 12 week elimination diet. They even provide you with a printable journal to easily do this. By not consuming these things I am hoping to improve my skin, scalp and overall maintain a healthy gut.
How about you, are you interested to see what food and drinks you are intolerant to?
Visit yorktest.com today for more information and to order your own Food and Drink scan kit.
xx, Nicole